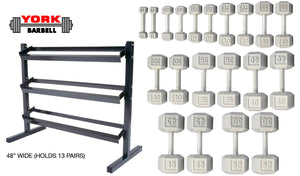 Add this 5-50lb cast iron hex dumbbells with a 3 level rack to your gym.
Description
5-50lb Cast Iron Hex Dumbbells
YORK's Cast Iron Hex Dumbbells are the economy "meat-and-potatoes" dumbbells for when "bells-and-whistles" are simply unnecessary and the real work needs to begin. These sturdy, durable dumbbells feature hexagonal shaped heads to prevent rolling.
(Residential Use Only)
YORK 3 Tier Dumbbell Stand
This compact 48″ wide 3 tier economy dumbbell stand is sturdy, durable and attractive