The SMR1000 commercial multi rack system is the perfect machine for providing all size users a safe and comfortable platform to maximize squats and pressing motions.
¼" solid steel gun rack style liftoffs provide multiple positions for a comfortable starting position. Rock solid adjustable safeties allow users to workout safely and maximize their load. The 2"x3" 11-gauge steel frame holds up in any heavy use environment. The back frame is extended to allow spotters easy access. Integrated weight storage keeps the plates right where you need them. The SMR1000 has integrated pegs for strength bands for extreme plyometric training. The integrated chinning bar allows users to incorporate pull ups, chin ups, inversion, ab slings and other body weight resistance systems for amazing versatility. The SMR1000 is an uncompromised monster free weight system. The SMR1000 muti-rack system is perfect for heavy use, heavy load environments, like schools, military, police and fire departments.
TECH SPECS
315 pounds
¼" solid steel gun rack liftoffs
2"x3" 11-gauge steel safeties and mainframe
Plate storage is included
1000 lb. capacity
Integrated chinning bar and strength band pegs
Extended frame for spotter access
Commercial warranty, lifetime on frame and welds
DIMENSIONS
Assembled Weight:

 
343lb / 155.58kg
 
 
 
 
 
 
 

Assembled Dimensions:

 

Length

Width

Height

 
 
80.00in / 2,032.00mm
71.00in / 1,803.40mm
89.00in/2,260.60mm
 
 
 
 
 

Package Dimensions:

 

Length

Width

Height

 
 
77.56in / 1,970.02mm
3.94in / 100.08mm
36.61in / 929.89mm
 
 

Volume

Gross Weight

 
 
 
6.47 ft3

 

/ 0.18 m3
116.60lb / 52.89kg
 
 
 
 
 
 

Package 2 Dimensions:

 

Length

Width

Height

 
 
81.50in / 2,070.10mm
41.57in / 1,055.88mm
9.84in / 249.94mm
 
 

Volume

Gross Weight

 
 
 
19.29 ft3

 

/ 0.55 m3
156.20lb / 70.85kg
 
 
 
 
 
 

Package 3 Dimensions:

 

Length

Width

Height

 
 
46.46in / 1,180.08mm
11.81in / 299.97mm
4.33in / 109.98mm
 
 

Volume

Gross Weight

 
 
 
1.37 ft3

 

/ 0.04 m3
83.60lb / 37.92kg
 
 BARS WEIGHTS NOT INCLUDED 
BODY-SOLID LIFETIME WARRANTY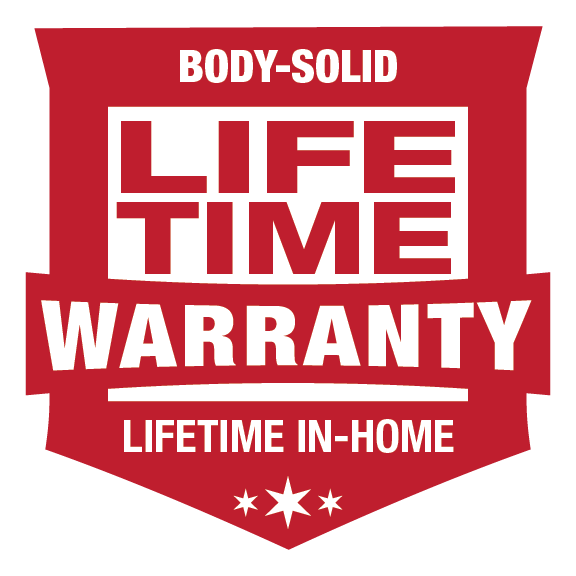 This Warranty applies only in the United States to products manufactured or distributed by Body-Solid, Inc.(Body-Solid) under the Body-Solid brand name. The warranty period to the original purchaser is:
BODY-SOLID warrants the In-Home Warranty as follows:
LIFETIME: Frame & Welds
LIFETIME: Pulleys, Bushings, Bearings, Hardware, Plates, Guide Rods
LIFETIME: Cables, Upholstery, Grips (Normal Wear)
Body-Solid warrants that the Product you have purchased for non-commercial use from Body-Solid or from an authorized Body-Solid reseller is free from defects in materials or workmanship under normal use during the warranty period.
Your sales receipt, showing the date of purchase of the Product, is your proof of the date of purchase.
This warranty extends only to you, the original purchaser. It is not transferable to anyone who subsequently purchases the Product from you.
It excludes expendable parts such as paint and finish.