FEATURES
Powerline Power Rack
Fire up your workouts on one of the first inventions that allowed weightlifters to workout safely and effectively, the Power Rack! Created several years ago, nearly every gym has one...so why not you? With the wide "walk-in" design there is plenty of side-to-side movement for a variety of exercises such as squats, incline, decline, flat and military presses as well as shrugs and calf raises. Complete with 18 positions, two heat tempered lift-offs and two saber style safety rods so you can keep your exercise routine the way it should be simple and effective.
Shown with optional Lat Attachment #PLA200, Bench #PFID130W
Freeweight plates, bars, and collars optional
TECHNOLOGY
Key Features:
Wide 'walk in' design
18 adjustment levels
Upright pillars are a full 24" apart for free motion
41" wide knurled chinning bar
1" diameter chin-up bar
Heat tempered Lift-Offs and saber-style safety rods keep your workouts simple, safe and effective
45"L x 47"W x 82"H
POWERLINE 10 YEAR HOME WARRANTY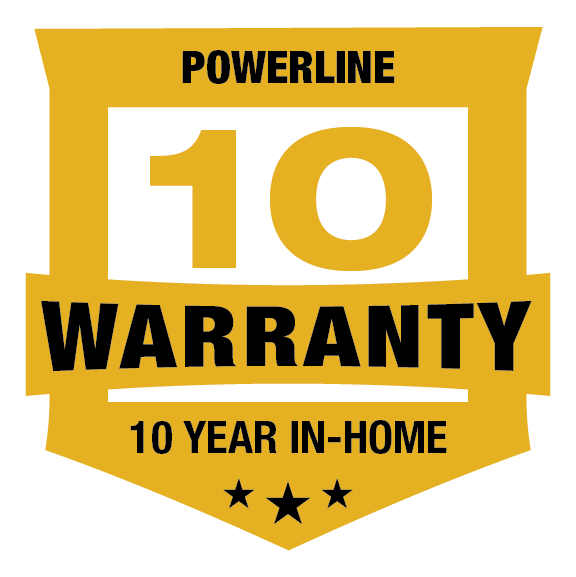 This Limited Express Warranty applies only in the United States to products manufactured or distributed by Body-Solid, Inc. ("Body-Solid") under the POWERLINE by Body-Solid brand name (hereinafter referred to as "Product").
POWERLINE by Body-Solid warrants the In-Home Warranty as follows:
10 YEARS: Frame
1 YEAR: Parts
Power-Line warrants that the Product you have purchased for non-commercial, personal, family, or household use from Power-Line or from an authorized Power-Line reseller is free from defects in materials or workmanship under normal use during the warranty period.
Your sales receipt, showing the date of purchase of the Product, is your proof of the date of purchase.
DIMENSIONS
Assembled Weight:

 
133lb / 60.33kg
 
 
 
 
 
 
 

Assembled Dimensions:

 

Length

Width

Height

 
 
45.00in / 1,143.00mm
47.00in / 1,193.80mm
82.00in/2,082.80mm
 
 
 
 
 

Package Dimensions:

 

Length

Width

Height

 
 
79.21in / 2,011.93mm
5.32in / 135.13mm
4.72in / 119.89mm
 
 

Volume

Gross Weight

 
 
 
1.15 ft3

 

/ 0.03 m3
52.80lb / 23.95kg
 
 
 
 
 
 

Package 2 Dimensions:

 

Length

Width

Height

 
 
47.09in / 1,196.09mm
9.13in / 231.90mm
5.04in / 128.02mm
 
 

Volume

Gross Weight

 
 
 
1.25 ft3

 

/ 0.04 m3
48.40lb / 21.95kg
 
 
 
 
 
 

Package 3 Dimensions:

 

Length

Width

Height

 
 
41.69in / 1,058.93mm
11.54in / 293.12mm
3.50in / 88.90mm
 
 

Volume

Gross Weight

 
 
 
0.97 ft3

 

/ 0.03 m3
39.60lb / 17.96kg