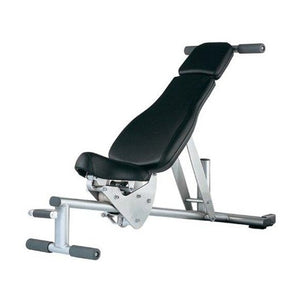 MORE INFO
This bench stands out for its special padding, height along with the surface and position of the feet, making this a very stable and robust bench. With 6-position settings (0 to 90 degrees)

The handles and wheels are integrated into the bench to facilitate their movement.


characteristics

· Dimensions: Length 133.5 x Width 53 x Height 45.7 cms.

· Weight: 35 kg.

· Maximum user weight plus load: 136 kg
Life Fitness is the world leader in the manufacture of fitness products, which guarantees the quality and reliability of the product, together with the most advanced technology and suitable for all types of users.
Guarantee
All the products that we commercialize have manufacturer's guarantee. In consumer equipment, this guarantee is subject to private and domestic use, excluding gymnasiums, hotels or any other type of commercial use.
This guarantee is 2 years in all components and in labor and displacement.
Do not hesitate to contact us and we will solve any doubts you may have and we will advise you based on your needs. We are here to help you and our main goal is that you have a good experience with us and find the closest proximity.