Body-Solid engineers knew that the best way to build an explosive lower body, and stay that way, would be to make your workouts incredibly Powerful... Comfortable... and Safe. As you work your quads, glutes, and calves, the engineered smoothness of the Leg Press/Hack Squat Machine spares your bones and joints. Three lockout positions are under the user's control throughout the exercises and provide user safety and the option of different start/stop positions.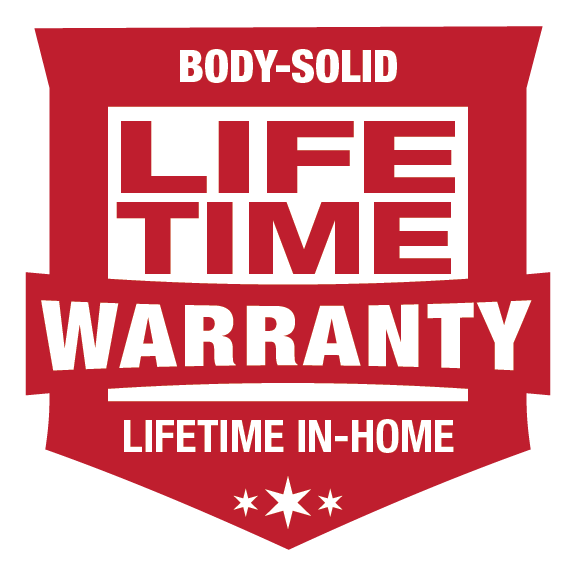 This product features a Lifetime Warranty for in-home, personal usage. Pads, pulleys, cables, frames, and everything in between is covered for as long as you own the equipment. Period.
This product is Commercial Rated and features a Lifetime Warranty on frames, welds, weight plates & guide rods. 3 Years on pulleys, bushing, bearings & hardware. 1 Year on cables, upholstery, grips and all other components.
DIMENSIONS
Assembled Weight:

 
317lb / 143.79kg
 
 
 
 
 
 
 

Assembled Dimensions:

 

Length

Width

Height

 
 
83.00in / 2,108.20mm
34.00in / 863.60mm
56.00in/1,422.40mm
 
 
 
 
 

Package Dimensions:

 

Length

Width

Height

 
 
31.50in / 800.10mm
26.38in / 670.05mm
11.81in / 299.97mm
 
 

Volume

Gross Weight

 
 
 
5.68 ft3

 

/ 0.16 m3
120.30lb / 54.57kg
 
 
 
 
 
 

Package 2 Dimensions:

 

Length

Width

Height

 
 
77.95in / 1,979.93mm
11.81in / 299.97mm
4.72in / 119.89mm
 
 

Volume

Gross Weight

 
 
 
2.51 ft3

 

/ 0.07 m3
84.30lb / 38.24kg
 
 
 
 
 
 

Package 3 Dimensions:

 

Length

Width

Height

 
 
52.76in / 1,340.10mm
9.06in / 230.12mm
5.12in / 130.05mm
 
 

Volume

Gross Weight

 
 
 
1.42 ft3

 

/ 0.04 m3
57.60lb / 26.13kg
 
 
 
 
 
 

Package 4 Dimensions:

 

Length

Width

Height

 
 
27.95in / 709.93mm
24.41in / 620.01mm
4.72in / 119.89mm
 
 

Volume

Gross Weight

 
 
 
1.86 ft3

 

/ 0.05 m3
49.50lb / 22.45kg
 
 
 
 
 
 

Package 5 Dimensions:

 

Length

Width

Height

 
 
33.46in / 849.88mm
22.44in / 569.98mm
7.87in / 199.90mm
 
 

Volume

Gross Weight