FEATURES
Simple design, maximum performance and a minimum price were the blueprints used to develop the EXM2500B. Loaded with 210lbs. of cast iron resistance, the EXM2500B can perform your most demanding strength training routines. Muscular growth and definition are rapidly achieved throughout each of the precision built, biomechanically designed stations. An optional 2:1 ratio Leg Press station is available (sold separately).
210lb. Steel Alloy Selectorized Weight Stack
Main Frame Construction- Heavy duty 2"x4" 12-gauge high tensile strength steel provides ultimate strength, function and durability
Thick DuraFirm™ Pads- With lumbar support, provides the ultimate comfort and prevents lower back strain
No Cable Change Design- 2,200 lb. tension strength, military spec, steel aircraft cables with nylon sheath provide durability and low maintenance. All stations are always ready to use
Powder Coat Finish- Tough, durable, electrostatically applied finish ensures against scratching, chipping and peeling
Body-Solid In Home Lifetime Warranty- Everything is covered forever!
Dimensions: 85" L x 61" W x 83" H, Weight: 578 lbs.
The EXM2500 is also available in white finish, EXM2500S, or black finish, EXM2500B
Exercise Stations
Chest Press: Horizontal and vertical grip
Pectoral Fly / Rear Delt Station
Leg Developer: Leg Extension, Standing Leg Curl
Upper Pulley: Lat Pull Down, Cable Crossover, Ab Crunch, Tricep Extension, Tricep Pressdown
Lower Pulley: Deltoid Raise, Seated Row, Shrug, Bent-over Row, Standing Curl, Leg Adduction
Optional Leg Press: 2:1 ratio converts the 210 lb. weight stack into 420 lbs. of resistance! (Sold Separately)
BODY-SOLID LIFETIME WARRANTY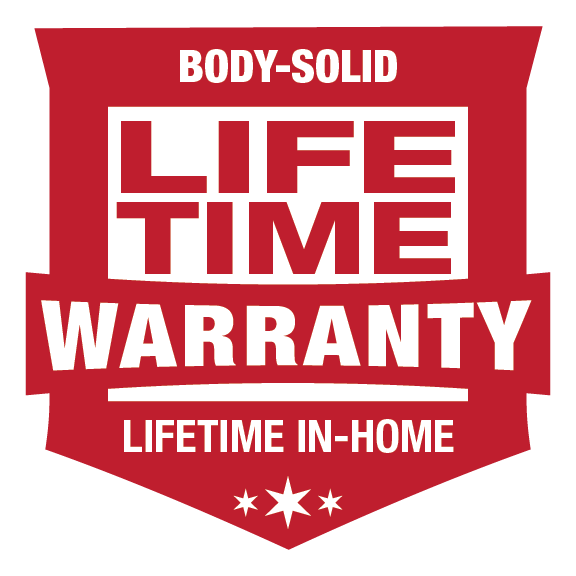 This Warranty applies only in the United States to products manufactured or distributed by Body-Solid, Inc.(Body-Solid) under the Body-Solid brand name. The warranty period to the original purchaser is:
BODY-SOLID warrants the In-Home Warranty as follows:
LIFETIME: Frame & Welds
LIFETIME: Pulleys, Bushings, Bearings, Hardware, Plates, Guide Rods
LIFETIME: Cables, Upholstery, Grips (Normal Wear)
Body-Solid warrants that the Product you have purchased for non-commercial use from Body-Solid or from an authorized Body-Solid reseller is free from defects in materials or workmanship under normal use during the warranty period.
Your sales receipt, showing the date of purchase of the Product, is your proof of the date of purchase.
DIMENSIONS
Assembled Weight:

 
 
 
 
 
 
 
 

Assembled Dimensions:

 

Length

Width

Height

 
 
85.00in / 2,159.00mm
61.00in / 1,549.40mm
83.00in/2,108.20mm
 
 
 
 
 

Package Dimensions:

 

Length

Width

Height

 
 
 
 

Volume

Gross Weight