FEATURES
Turn up the intensity of your workouts and achieve maximum gains in strength and size in a minimum amount of time. The new Body-Solid Free Weight Leverage Gym allows you to work out without compromise. Feel free to max out and train to muscular exhaustion for accelerated gains. The Legerage Gym's versatility and advanced safety features ensure a complete heavy-duty workout without the need for a spotter. Load up the plates and go to work! Perform bench / incline / decline and shoulder presses, pec flys, lat pull downs, preacher curls, squats, calf raises and much, much more! Over 40 exercises are available on this versatile leverage free weight gym. Each station adjusts to fit your size for proper positioning, beneficial pre-stretch and full range of motion. Every repetition on this rock-solid training center feels just right.
The Leverage Gym features 2 - 2" and 3" thick DuraFirm™ seat, back and shoulder pads to support you comfortably through the heaviest routines, DuraFirm™ upholstery is super tough, sweat and tear resistant and is guaranteed to never bottom out. The extra heavy-duty mainframe is built from 10 and 11 gauge high tensile strength steel with all-4-side welded construction. There is no other machine in its class that can compare to its strength and stability. Each leverage exercise station moves fluidly on pivot points utilizing commercial-grade pillow block bearings and oversized bronze bushings. Durable, electrostatically applied powder coat finish resists scratches, scrapes and chips. The textured finish hides fingerprints and cleans easily. The Body-Solid Free Weight Leverage Gym is built to last a lifetime and is backed by the Body-Solid Exclusive In-Home lifetime warranty on everything; pads, pulleys, cables, frame. You name it—it's all covered. Forever. Period.
Includes basic leverage gym, squat attachment, FID46 bench. Olympic style plates only. Weight plates optional.

PRESS
Consumer's Guide Best Buy!
Body-Solid has built the tank of free weight home gyms with the Body-Solid Leverage Gym. The three-station frame is a solid 10 and 11-gauge high tensile steel strength with all-four-side welded construction. It's a unit unsurpassed in strength and stability. Commercial grade pillow block and sealed ball bearings make for friction-free precision movement. The Body-Solid Leverage Gym also offers a unique spotting feature, providing safeguards at every station to prevent pinning under heavy weights. With the three stations, there are up to 40 exercises that can be done on this machine, and each station is adjustable to fit your size with the best possible positioning. It's a free-weight gym that's meant to be seen. The detail given to the stitching of the thick 3-inch DiraFirm padding that contrast so strongly to the rugged, raw strength of the construction kind of make the Body-Solid Leverage Gym a Best Buy at first sight.
Here is another piece similar to the Powertec Workbench above. This piece is another plate-loaded machine which has many of the features of the Powertec above but without some of the extra stations. For the value, I rank it second because of the lack of versatility compared to the product above. However, don't get me wrong-this Body-Solid Leverage Gym is definitely on the list of must have's if you are tight on space and still want to get a piece that can pretty much do it all.
The piece itself is of very high quality and very durable. The pads are comfortable when working out and are tear resistant. Just like above there are no pulleys to worry about so this piece is maintenance free. This machine can only have 2 users at once whereas the piece above you can get up to 3 so that is one thing that you'll want to keep in mind. If you are training by yourself or with a buddy/spouse/sibling/whoever, this piece would work just fine for your needs.
Overall, this is another piece worth looking into if you are looking for a home gym that doesn't take up a lot of space, yet gives you everything you need to hit every body part. Even though you are paying a little more for this piece compared to the Powertec Workbench, this is still a great buy for any household.
TECH SPECS
Key Features:
Frames
Extra strong and extra large 3"x3" 10 and 11 gauge steel mainframe with all-4-side welded construction and thick, reinforcement plates give the Body-Solid Leverage Gym the strongest frame in its class, bar none!

 

Commercial Grade Pillow Block & Sealed Ball Bearings
Provide precision movement and friction-free performance without play even under enormous weight.

 

Safety Guards At Every Station
Prevent pinning under heavy weight and allow you to max out without a spotter.

 

Tough, Durable Powder Coat Finish
Our electrostatically applied powder coat finish resists chipping, scratching and corrosion. The specially textured finish is easy to clean and hides fingerprints.

 

DuraFirm™ Pads
Our exclusive DuraFirm™ Pads are tear resistant, extra thick and ultra comfortable. We use the highest density foam in the industry for a lifetime of support. Our pads will never bottom out...GUARANTEED.

 

Dimensions
Basic unit (without bench) 104"L x 107"W x 83"H Bench: 72"L x 28"W x 32"H (53" Inclined)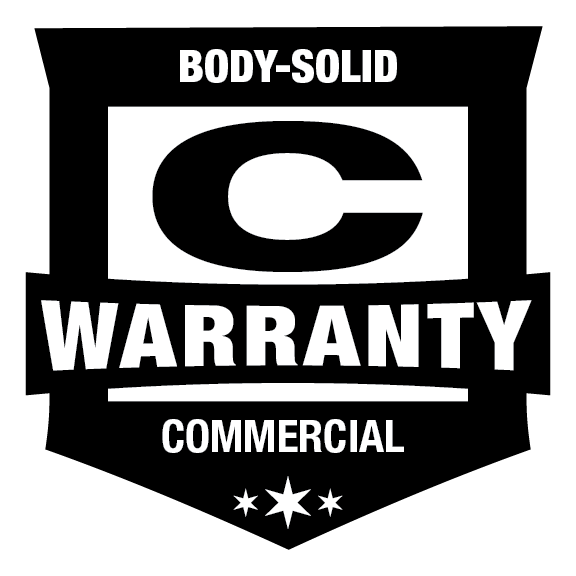 DIMENSIONS
Assembled Weight:

 
630lb / 285.77kg
 
 
 
 
 
 
 

Assembled Dimensions:

 

Length

Width

Height

 
 
149.00in / 3,784.60mm
100.00in / 2,540.00mm
83.00in/2,108.20mm
 
 
 
 
 

Package Dimensions:

 

Length

Width

Height

 
 
52.56in / 1,335.02mm
16.54in / 420.12mm
10.24in / 260.10mm
 
 

Volume

Gross Weight

 
 
 
5.15 ft3

 

/ 0.15 m3
111.10lb / 50.39kg
 
 
 
 
 
 

Package 2 Dimensions:

 

Length

Width

Height

 
 
52.95in / 1,344.93mm
20.28in / 515.11mm
7.09in / 180.09mm
 
 

Volume

Gross Weight

 
 
 
4.41 ft3

 

/ 0.12 m3
107.80lb / 48.90kg
 
 
 
 
 
 

Package 3 Dimensions:

 

Length

Width

Height

 
 
37.20in / 944.88mm
34.84in / 884.94mm
7.28in / 184.91mm
 
 

Volume

Gross Weight

 
 
 
5.46 ft3

 

/ 0.15 m3
103.40lb / 46.90kg
 
 
 
 
 
 

Package 4 Dimensions:

 

Length

Width

Height

 
 
64.76in / 1,644.90mm
21.06in / 534.92mm
7.09in / 180.09mm
 
 

Volume

Gross Weight

 
 
 
5.60 ft3

 

/ 0.16 m3
126.70lb / 57.47kg