FEATURES

The GCLP100 combines two great movements—leg press and calf raise—into one compact, safe and easy-to-use machine.
 
Measuring at just 47.2" wide and 67.1" deep, the GCLP100 is one of the most compact, functional leg press machines on the market and can easily fit into most facilities and homes with ease.
 
Don't let the compact size fool you, like a high-end sports car, the Body-Solid GCLP100 is built to perform.
 
The best-in-class carriage glides on sealed linear ball bearings and case-hardened, chrome-plated guide rods for unprecedented smoothness even at heavy weights. Heavy-gauge steel construction ensures a lifetime of reliability, even in heavy-use facilities.
 
Fully-adjustable, the GCLP100 allows any user to find the perfect fit while the hand grips lock the user into position, avoiding stress on the lower back.
 
Two 12" chrome-plated weight horns allow users to comfortably add weight to the GCLP100 up to the 1,000 lb. weight capacity.

TECH SPECS
Combines leg press & calf raise in one compact machine
Carriage with sealed linear bearings
Heavy-gauge steel construction
Adjustable to fit any size user
Commercial-rated
Weight Capacity: 1,000 lbs.
Product Weight: 228.7 lbs.
WEIGHTS NOT INCLUDED 
BODY-SOLID LIFETIME WARRANTY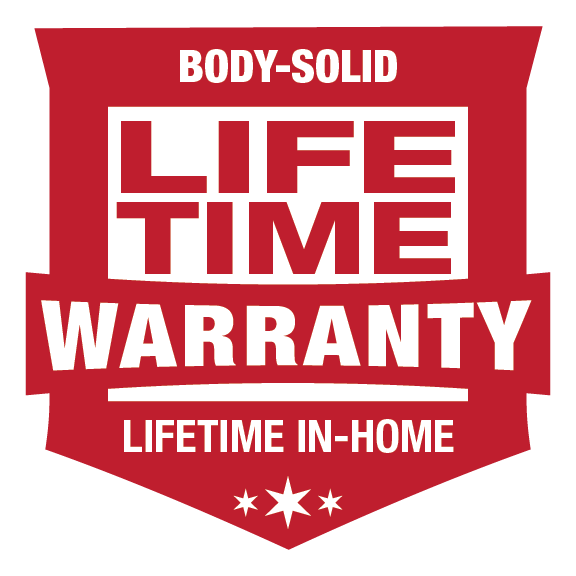 This Warranty applies only in the United States to products manufactured or distributed by Body-Solid, Inc.(Body-Solid) under the Body-Solid brand name. The warranty period to the original purchaser is:
BODY-SOLID warrants the In-Home Warranty as follows:
LIFETIME: Frame & Welds
LIFETIME: Pulleys, Bushings, Bearings, Hardware, Plates, Guide Rods
LIFETIME: Cables, Upholstery, Grips (Normal Wear)
Body-Solid warrants that the Product you have purchased for non-commercial use from Body-Solid or from an authorized Body-Solid reseller is free from defects in materials or workmanship under normal use during the warranty period.
Your sales receipt, showing the date of purchase of the Product, is your proof of the date of purchase.
This warranty extends only to you, the original purchaser. It is not transferable to anyone who subsequently purchases the Product from you.
It excludes expendable parts such as paint and finish.
This Warranty becomes VALID ONLY if the Product is assembled / installed according to the instructions / directions included with the Product.
DIMENSIONS
Assembled Weight:

 
229lb / 103.87kg
 
 
 
 
 
 
 

Assembled Dimensions:

 

Length

Width

Height

 
 
67.00in / 1,701.80mm
47.00in / 1,193.80mm
46.00in/1,168.40mm
 
 
 
 
 

Package Dimensions:

 

Length

Width

Height

 
 
 
 

Volume

Gross Weight