FEATURES
The Best Fitness BFPR10 is the perfect partner for your Olympic bar. With adjustable lift-off positions and safeties, racking the bar is always comfortable and predictable.
A perfect complement to the Best Fitness BFFID10, the Olympic Press Stand allows you to perform, calf raises, lunges, dead-lifts, upright rows and many, many more power building exercises.
The BFPR10 Best Fitness Olympic Press Stand is an essential piece of equipment for your home gym. Is reverse pitch accommodates your body's natural lifting path, offering lift-off and safety positions that are right where you need them to be for a safe, efficient work
Reasons for choosing Best Fitness home workout equipment
Best Fitness home workout equipment is innovatively designed to be versatile, durable, dependable and affordable. You'll get a total body workout from one compact machine constructed from high quality materials and components. By owning the equipment you need to achieve the fitness goals you've set, you'll never have to:
Spend an hour driving to a 30 minute workout
Share your machine with strangers
Wait for the machine you're ready to use
Be critiqued by others using the machines near you
Worry about the cleanliness of the shower facilities of a gym
Buy with confidence, knowing that committing to a regular exercise routine can help you look good, feel better and achieve your best.
TECH SPECS
7-position angled uprights provide for correct lifting position
4" liftoffs and 7" safety's with durable rubber surface pads provided
Sturdy "A" frame construction with 10 bolt assembly
Durable powder coated finish
Assembled size – 45"L x 56.5"H x 29.5"W
An ideal companion to the Best Fitness BFFID10 flat/ incline/ decline bench
WEIGHTS AND BAR NOT INCLUDED 
BEST FITNESS 3 YEAR WARRANTY
Warranty Agreement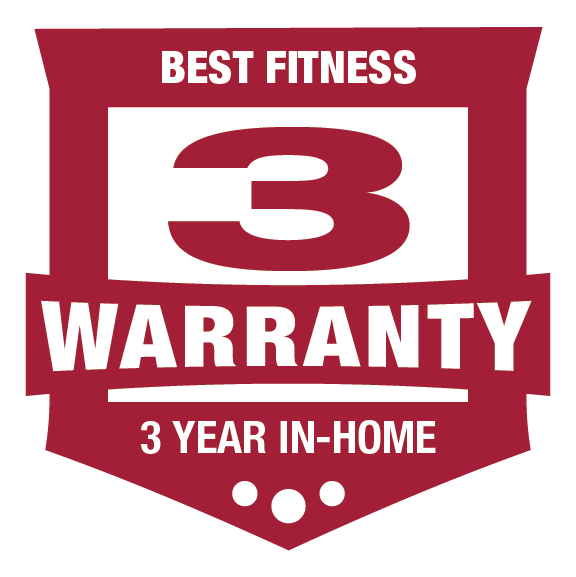 This Warranty applies only in the United States to products manufactured or distributed by Best Fitness™ under the Best Fitness brand name. The warranty period to the original purchaser is:
3 years on the Frame
1 year on ALL parts.
1 year on motor (if applicable)
3 months on electronics (if applicable) 
Best Fitness warrants that the Product you have purchased for non-commercial, personal, family, or household use from Best Fitness or from an authorized Best Fitness reseller is free from defects in materials or workmanship under normal use during the warranty period.
Your sales receipt, showing the date of purchase of the Product, is your proof of the date of purchase.
This warranty extends only to you, the original purchaser. It is not transferable to anyone who subsequently purchases the Product from you.
It excludes paint and finish.
This Warranty becomes VALID ONLY if the Product is assembled / installed according to the instructions / directions included with the Product.
During the warranty period BEST FITNESS will at no additional charge, repair or replace (at Best Fitness's option) the Product if it becomes defective, malfunctions, or otherwise fails to conform with this Warranty under normal non-commercial, personal, family, or household use. In repairing the product Best Fitness may replace defective parts or, at the option of Best Fitness , serviceable used parts that are equivalent to new parts in performance. All exchanged parts and Products replaced under this warranty will become the property of Best Fitness . Best Fitness reserves the right to change manufacturers of any part to cover any existing warranty.
DIMENSIONS
Assembled Weight:

 
68lb / 30.84kg
 
 
 
 
 
 
 

Assembled Dimensions:

 

Length

Width

Height

 
 
30.00in / 762.00mm
45.00in / 1,143.00mm
57.00in/1,447.80mm
 
 
 
 
 

Package Dimensions:

 

Length

Width

Height

 
 
61.02in / 1,549.91mm
11.22in / 284.99mm
7.68in / 195.07mm
 
 

Volume

Gross Weight

 
 
 
3.04 ft3

 

/ 0.09 m3
73.70lb / 33.43kg