FEATURES
Everyday life has its ups and downs, and your spine pays the price for all of them. The Best Fitness BFINVER10 Inversion Table is designed to relieve stress, reduce back pain, increase flexibility and improve your posture by suspending your body's weight in a comfortable, controllable motion.
A strong, stable base supports a comfortably padded nylon backboard. The BFINVER10 features a nylon safety strap to ensure stability during inversion. A graduated scale on the extension bar allows simple, fast adjustments to accommodate users up to 6 ft, 6 inches tall. For additional comfort, adjustable ankle cuffs provide a custom fit that cannot be achieved with foam rollers common to many inversion tables. Best of all, you can simply pull two pins on the BFINVER10 to collapse and fold it away into any closet.
The Best Fitness BFINVER10 Inversion Table is designed to take advantage of the downward force of gravity to relieve pressure in your back. In one smooth, fluid move, you can safely go from an upright position to completely inverted. Just adjust the unit to accommodate your height and strap the ankle cuffs to secure a safe, comfortable fit. Then, lean back and enjoy the many benefits of inversion therapy, including less back and neck pain, fewer headaches, better posture, improved blood flow and less stress.
Explore a new perspective on back pain and spinal decompression with the Best Fitness BFINVER10 Inversion Table. Features include:
BENEFITS
Your spine is constantly being compressed by the everyday activities of walking, running, climbing... even standing. Inversion therapy has become an extremely popular method of relieving the pressure on the discs and nerves situated between the vertebrae. Proponents also believe that inversion therapy restores proper alignment of the spine and can result in a stronger, healthier posture.
Many doctors and chiropractors agree that activity and exercise offer the best long-term solutions for back pain, joint stiffness and immobility. The Best Fitness BFINVER10 Inversion Table is designed to help you achieve both in the comfort and convenience of your own home.
TECH SPECS
Padded nylon backboard designed for comfort and breathability.
Nylon safety strap that controls stability and allows you to glide quickly and safely from the upright position to full inversion.
Adjustable ankle cuffs that offer a comfortable, customizable fit for each individual user.
Simple, 2-pin collapse-and-fold design that allows for fast storage in any closet.
250 lb. user capacity.
Fits users from 4'10" to 6' 6"
BEST FITNESS 3 YEAR WARRANTY
Warranty Agreement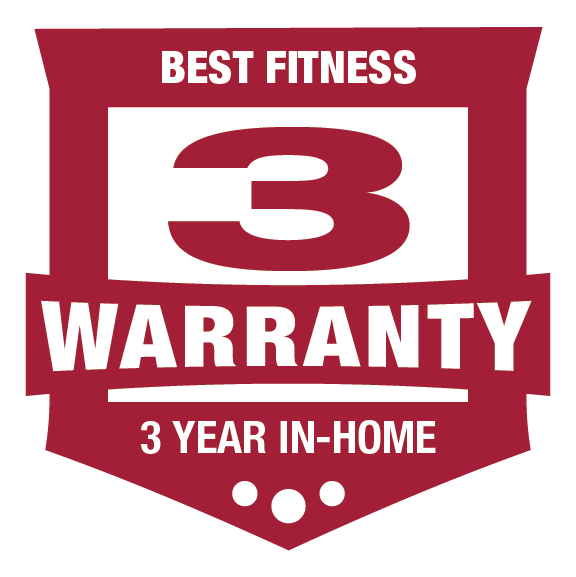 This Warranty applies only in the United States to products manufactured or distributed by Best Fitness™ under the Best Fitness brand name. The warranty period to the original purchaser is:
3 years on the Frame
1 year on ALL parts.
1 year on motor (if applicable)
3 months on electronics (if applicable) 
Best Fitness warrants that the Product you have purchased for non-commercial, personal, family, or household use from Best Fitness or from an authorized Best Fitness reseller is free from defects in materials or workmanship under normal use during the warranty period.
Your sales receipt, showing the date of purchase of the Product, is your proof of the date of purchase.
This warranty extends only to you, the original purchaser. It is not transferable to anyone who subsequently purchases the Product from you.
It excludes paint and finish.
This Warranty becomes VALID ONLY if the Product is assembled / installed according to the instructions / directions included with the Product.
During the warranty period BEST FITNESS will at no additional charge, repair or replace (at Best Fitness's option) the Product if it becomes defective, malfunctions, or otherwise fails to conform with this Warranty under normal non-commercial, personal, family, or household use. In repairing the product Best Fitness may replace defective parts or, at the option of Best Fitness , serviceable used parts that are equivalent to new parts in performance. All exchanged parts and Products replaced under this warranty will become the property of Best Fitness . Best Fitness reserves the right to change manufacturers of any part to cover any existing warranty.
DIMENSIONS
Assembled Weight:

 
46lb / 20.87kg
 
 
 
 
 
 
 

Assembled Dimensions:

 

Length

Width

Height

 
 
47.00in / 1,193.80mm
30.00in / 762.00mm
60.00in/1,524.00mm
 
 
 
 
 

Package Dimensions:

 

Length

Width

Height

 
 
52.00in / 1,320.80mm
31.00in / 787.40mm
6.00in / 152.40mm
 
 

Volume

Gross Weight

 
 
 
5.60 ft3

 

/ 0.16 m3