FEATURES
The Endurance by Body-Solid E300 Elliptical Trainer is a standout elliptical in the market today thanks to its smooth and quiet motion, compact construction, space efficiency and stability. 
Thanks to Endurance by Body-Solid's patented center-drive design, the E300 has a natural 21" stride rate as well as a low center of gravity and a balanced frame to prevent rocking and swaying. Dual-action upper and lower body movements are aided by premium handgrips and heart rate monitors to help users stay in their target ranges. 
The Endurance by Body-Solid E300 Elliptical Trainer is programmable with six preset programs, manual mode and two user profiles. The elliptical is designed to accommodate users up to 300 lbs and features a step-up height of just 8". 
Additional features include an easy-to-use LED display, transport handles for movement around a facility, foot levelers for additional stability and a water bottle holder to help keep users hydrated throughout their workout. 
HRM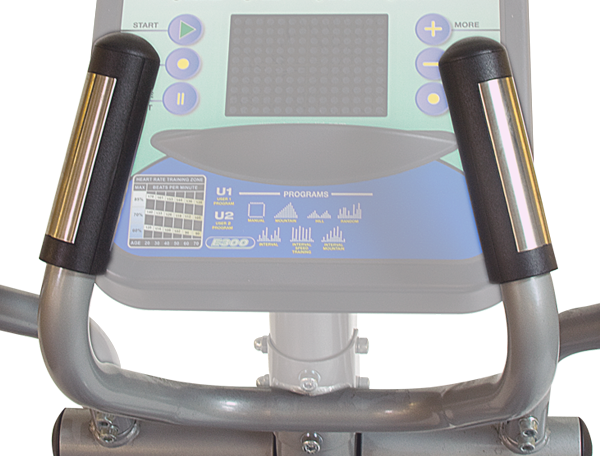 HEART RATE MONITOR
The E300 comes equipped with Heart Rate Contacts. The Heart Rate Contacts send your heart rate information to the console for processing. To measure Heart Rate, your hands need to firmly grasp the entire area of the Heart Rate Contact Sensors on both sides of the handlebar.
The most common method for calculating your target heart rate is to find your maximum heart rate.



click to enlarge

The standard formula for this is:
220 - your age = Maximum Heart Rate

You DO NO T want to workout at your maximum heart rate.
You want to workout in your target heart rate zone.
Your target heart rate zone is a percentage of your maximum heart rate.
The American Heart Association recommends working out at a target heart rate zone of between 60% - 75% of your maximum heart rate.
The Endurance by Body-Solid E300 Elliptical Trainer is backed by Body-Solid's industry-leading warranties including a 5-year in-home warranty. 
PROGRAMS

PROGRAM MODES
The E300 offers various program modes including a Quick-Start Mode, 6 Preset Program Modes, and two User Profile Modes.
MOUNTAIN
This program takes the user gradually up to a high resistance level, then brings the resistance level back down to the starting point. This program simulates what one might encounter on a true mountain course. This is a difficult program since higher tension levels are maintained for long periods of time.
HILL
This program takes the user through two hill profiles. Resistance changes are small during this program. This is a good program to get started with or for someone looking for a lower stress workout.
RANDOM
This program randomly generates a new program profile every time it is chosen. This allows you to keep the workouts fresh and motivating. When you scroll thru the programs to reach the RANDOM program, you will be able to see the program profile. If this profile is not to your liking, simply scroll thru the programs again and a new RANDOM program will be generated. The RANDOM program will be different every time you use it.
INTERVAL
This program simulates interval training through a series of two hill profiles.
INTERVAL MOUNTAIN
This program simulates interval training thru a difficult mountain profile.
INTERVAL SPEED TRAINING
This program simulates interval training with more extreme levels of high and low intensity levels.
TWO USER PROFILES:
User Profiles U1 and U2 allow you to customize and save an exercise session.
ENDURANCE BY BODY-SOLID WARRANTY
Warranty Agreement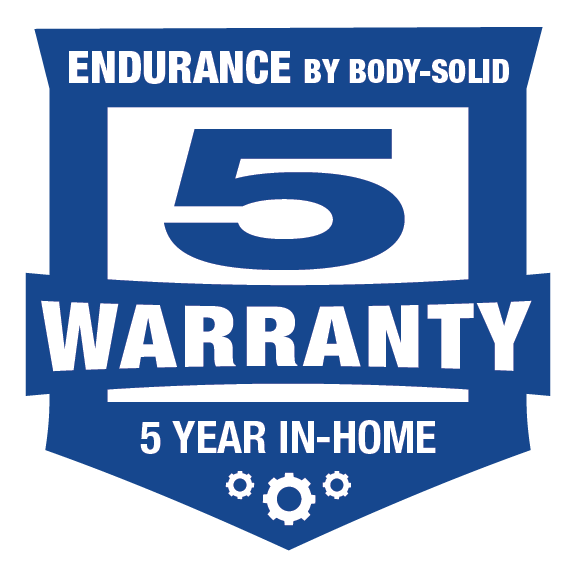 This Warranty applies only in the United States to Cardio products manufactured or distributed by Body-Solid under the Endurance by Body-Solid brand name.
ENDURANCE by Body-Solid warrants the In-Home Warranty as follows:
LIFETIME on Frame
5 YEARS on Parts
2 YEARS in Electronics
1 YEAR on Labor
6 MONTHS on Wear items (seat, brake pad, etc.)
DIMENSIONS
Assembled Weight:

 
232lb / 105.24kg
 
 
 
 
 
 
 

Assembled Dimensions:

 

Length

Width

Height

 
 
50.00in / 1,270.00mm
31.00in / 787.40mm
66.00in/1,676.40mm
 
 
 
 
 

Package Dimensions:

 

Length

Width

Height

 
 
33.00in / 838.20mm
45.00in / 1,143.00mm
24.00in / 609.60mm
 
 

Volume

Gross Weight

 
 
 
20.63 ft3

 

/ 0.58 m3
264.00lb / 119.75k